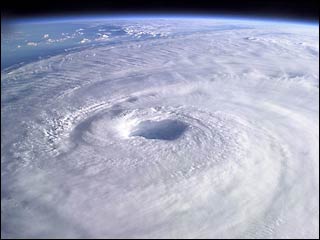 It never would have occurred to me to volunteer for the American Red Cross in my role as a professional counselor. In fact, I had never seriously thought of volunteering for the Red Cross in any capacity. I had never envisioned myself standing in a shelter wearing one of those cheesy gray vests with the big red intersection on the back giving out bottles of water to evacuees or ladling out spaghetti on styrofoam plates. I believe in that sort of volunteerism, but I'd just never envisioned me doing it.
My colleague Nancy DeLong got me into this adventure. She had found out that the American Red Cross has a program using licensed mental health professionals to do supportive crisis counseling in disaster settings. Its a fairly new service offered by the Red Cross. It may have had its impetus in the aftermath of 9/11. They generally like to use volunteers who have had specialized training and who have applied thru their local chapters, but in light of the massive devastation caused by Katrina and Rita on the gulf coast they were waiving their usual requirements and disaster novices such as myself were allowed to apply on-line.

Nancy applied about five days before I did, and she left for Baton Rouge on September 22 to work with Katrina evacuees just as hurricane Rita was approaching the Texas-Louisiana state line. At that moment hundreds of thousands of residents of the Galveston-Houston area were gridlocked on Interstate-45 and other highways heading inland. The mind-blowing graphics of the flooded streets of New Orleans and the nightmarish living conditions at the Super Dome had created panic in Rita's projected path. At one point Rita was a Category-5 monster that appeared poised to shred Galveston and dump its remains into downtown Houston. While not below sea level like New Orleans, Houston is nicknamed The Bayou City and it is very low lying.
That same Thursday evening I received a call from the Red Cross to ask if I could fly to Dallas on Monday. They were anticipating needing volunteers to work in shelters in Dallas with Rita evacuees. However, I had commitments that precluded me from leaving until the following Thursday. They noted my availability and stated they would be back in touch.
When Rita finally made landfall it had slowed to a Category-3 and it came ashore in the less densely populated Beaumont area 60 miles to the east of Houston. The hundreds of thousands of Houston-Galveston evacuees turned around and flooded back home. There was a slight sigh of relief. The damage to the oil industry infrastructure was less than anticipated and the very vulnerable Houston-Galveston area was given a reprieve. However, to the folks in Port Arthur, Beaumont and Lake Charles area Rita was no walk in the park. Particularly hard hit was the city of Orange-- a community of about 20,000 people straddling the Louisiana state line. Folks from that zip code were issued Red Cross debit cards without having to have the damage to their property assessed.
The Red Cross' most notable relief initiative on the Gulf was to provide debit cards to individuals and families from homes with serious structural damage. The cards were for food, shelter, gas, etc. An individual could get $360. and a family of five up to $1500. In addition to the debit cards there were outreaches into the communities providing bottled water, bulk food and prepared meals. Red cross nurses and mental health professionals provided first aid, health assessments and on the spot triage and crisis counseling both to the disaster victims and to the relief workers.
After that initial phone call I waited almost three weeks for the Red Cross to get back in touch. In the interim there had been one email inquiring if I was still available for deployment. I answered them that I would be available untill October 18. I was beginning to think that I wasn't going to be called and I was feeling both a bit relieved and a bit disappointed. I had talked with my friend Nancy several times. She was staying at the big shelter in the Baton Rouge convention center working with evacuees on the midnight to eight shift. She was enjoying it, but it sounded like rough living conditions-- sleeping on a cot in a dormitory with other workers. She noted that a young man who drove a fork lift was on the cot next to her. Workers stood in the chow line for food and shower facilities were in the next building over. I wondered how well I would cope without all the comforts of life I was accustomed to. I had been on several church mission trips, and the one to the Dominican Republic required me to live in fairly primitive conditions. However, both of the mission trips were only one week and I was with a team of people I felt somewhat bonded with. The Red Cross deployment would be for two weeks and I would be living with total strangers. I correctly surmised that this deployment would be well outside of my comfort zone.
Putting oneself out of their comfort zone to aid others is something I believe every person (but especially Christians) should do. Its one thing to put a check in the mail to send aid to those immersed in a disaster -- its another thing altogether to actually go there amidst the chaos and potential hardship. I am not trying to be Brother Teresa, as Brennan Manning would put it, or to earn Christian merit badges, but I am trying to be somewhat faithful to the example of service Jesus provided in parables such as The Good Samaritan. Much of that initiative involves facing my own fears in a walk of trust with the Lord.
On Friday evening the 14th, I was walking to the Church of the Annunciation's Fall Festival with my friend Dave Hall. I was looking forward to having some ethnic food and some fellowship with old friends in the beer tent. Suddenly my cell phone went off, and when I saw the number and area code I knew that the moment of truth had come. The voice on the other end asked if I could fly to Houston on Sunday and I indicated that I could. They asked that I call back the following day for further instructions and orientation.
The next morning I spoke with someone in the Red Cross headquarters in Washington. I received my marching orders and further instructions from them and also via email. I was told to call BTI Travel and arrange a flight to Houston. All the flights were booked for Sunday, and so I obtained a flight for Monday around noon. I was given a number to call precisely at 3 p.m. EST Saturday afternoon for a conference call and orientation with other volunteers. I followed their instructions and for almost an hour I was on the phone with three other counselors with a lady from Washington instructing us in our roles as representatives of the Red Cross.
I was given another number to call when I reached Houston, and told that I would be given further instructions. I had no specifics about where I would be serving or in what capacity. It all seemed very mysterious. At any moment I expected to hear the Mission Impossible theme come up. I had hoped that someone from the shelter where I assumed I would be serving would be at the airport to pick me up. I thought, like my friend Nancy in Baton Rouge, that I would be working in some shelter in the Houston area. Wrong script! My Red Cross experience would be quite different from Nancy's.
I felt tired and perplexed by the time I reached Terminal C in George Bush International in the early afternoon of Monday the 17th. The number I was to call produced a recording that said I had reached an invalid number. Fortunately, I had been warned to ignore this message and keep calling. Finally, the phone answered with another recording to punch in the DSR # which was 393. Another recording told me to obtain an Avis rental and drive to local Red Cross headquarters at San Jacinto Methodist Hospital in Baytown.
Now, if you had previously asked me what was my idea of a nightmare, I would have replied to drive in a strange mega-opolis, in a strange vehicle thru heavy traffic, with poor directions and only the vaguest idea of where I was going. My perfect nightmare was coming true. I called Avis on one of the airport's house phones. The person I reached informed me that they had no more cars reserved for the Red Cross. I called Washington back and they said to just proceed to the Avis parking lot and there would be cars available. I sat on a bench waiting for the shuttle and wondered if I should just get on the next flight back to Orlando -- perhaps, this was all a big mistake. What if I got there and there were no cars and no one would come to the airport to pick me up. Then what? Nevertheless, with constant prayer in my thoughts, I trudged onward. Or at least the shuttle did, and sure enough, Avis had plenty of cars reserved for Red Cross workers. I got a spiffy new Hyundai Sonata with a sun roof and all the bells and whistles. It was different than my Taurus and so I sat for awhile getting comfortable with it and praying again to focus my mind and emotions. My continual prayer was that in some small way those whom I would interact with on this journey would see in me some small glimpse of Jesus.
Now, there was a time in my Christian walk when that prayer would have seemed impossibly grandiose. Even with a theoretical understanding of Galatians 2:20 -- that Christ in some sense lived in me -- it seemed almost blasphemous to even think such thoughts. How could Perfect Love be made manifest in such a creature as I, one of rampant earthly appetites and flat out lust. For those of us Christians with chronically low self-esteem, the path of Christian maturity is one of progressively confronting and defeating the satanic thought that we aren't suitable vessels for God of the universe to reside in. It had taken me a decade or more to become somewhat comfortable with that thought.
However, my mood was being restored. It was a bright sunny day and traffic on the Sam Houston Beltway was lighter than I had anticipated. I followed it to I-10 and across the bayou. Baytown is a large suburb about 20 miles east of Houston. I was struck by how much the Houston area resembled Orlando -- flat terrain with pine trees and palmettos and plenty of strip malls, and upscale developments with pretentious names -- Pointe this and Pointe that. The directions to the hospital were fairly clear. We were headquartered in a five-story abandoned 1950-60s era Methodist hospital.
The manic activity inside of the hospital struck me as organized chaos. I thought that this must be a bit of what our country was like during WWII -- people from all walks of life with diverse skills and personalities from all over the country being deployed to confront a common enemy. In this case not the Nazis or Imperial Japan but the detritus of Nature rampant. I was "in-processed" -- another orientation, bestowed my official Red Cross cell phone and debit card with a max of $650. for gas, food and any extra deployment expenses.
The mental health operations room was a third story office with a view of the bayou. A large wall chart had counselor's names scribbled under various locales. A makeshift desk held several phones and cardboard boxes serving as file cabinets. It was coordinated by an experienced disaster worker from Alaska, George Kircher. There were two lady social workers aiding him and a psychiatrist from Hawaii. All were middle aged. The psychiatrist, Dr. Mike Grinberg, took me across the hall for another orientation and gave me a packet of information to read. My understanding was that I would be working out of a service center in an abandoned Montgomery-Ward store and going out into the community doing assessments as part of a team. Still, it was not really clear to me what exactly we or I would be doing.
I was given directions to the closest Wal-Mart and told that I would need to get a sleeping bag, pillow and a cot or air mattress. My understanding was that I would be sharing one of the hospital rooms with another person. We would have our own toilet and wash basin but the shower would be down the hall. The hospital had seen better days and I was discouraged about having to follow directions again to obtain my own bedding. One would have thought that they would have had these accommodations already in place. It was getting late in the afternoon and I was feeling quite weary.
But then at the last minute the plan changed. Headquarters in Houston called and said I would be staying downtown in the Hyatt Regency because they wanted me at their office downtown for a further orientation at 8 a.m. sharp the following morning. "Damn," said Dr. Mike, "I wanted to stay downtown at the Hyatt." He felt that I was very lucky. It was clear that living on a cot at the old hospital was starting to wear on him. I felt guilty about my good fortune for about three seconds. After all, Mike lived in paradise; he lived in Maui full time.
In spite of having to negotiate the nightmare of one-way downtown traffic I felt relieved to be spending my first night in a nice hotel. I often don't sleep well under the best of conditions and this would give me a chance to unwind in a pleasanter and more private atmosphere. Yet there was a sense of cognitive dissonance as I looked out of the 9th floor window at downtown Houston. It seemed odd to be staying in a luxurious $150. or more per night room on an official Red Cross disaster relief mission. Even after a good dinner and a glass of wine, I still slept very fitfully. I awoke several times and overall didn't get much more than four hours sleep. The following morning I felt too jangled to read much Scripture but I spent extra time in prayer. I was still feeling somewhat anxious about the vagueness of my mission and the prospect of having to battle traffic again.
I got instructions from the concierge as to finding the Red Cross' downtown locale. It was another seven miles on the freeway. I arrived at eight as instructed. Like the hospital in Baytown it was another scene of organized chaos. Myself and another counselor, Doug Kirk, were to be oriented at the same time. Doug is a tall man with a handlebar mustache. He's in his early-50s, and a social worker at a V.A. hospital in Madison, Wisconsin. I had lived about 60 miles from Madison at one time and we immediately bonded. This was his first Red Cross service too and I sensed that he was feeling a bit like I was.
We were oriented by a social worker from Sandusky, Ohio, Debbie Saunders. It was her last day and she was turning over her supervisory duties to another social worker named Victor. It was his second day. Sandusky is 12 miles from my home town and so another transient bond was established with Debbie. I was beginning to feel a bit more comfortable.
That afternoon Doug and I were sent to the Red Cross service center at the old Montgomery-Ward store in Baytown. Inside the store several hundred workers were manning phones and laptops certifying the eligibility of storm victims for the debit cards. People were lining up out front and several uniformed law enforcement officers kept order at the front of the building. Once they produced a valid ID they were allowed in to apply for their card, or if they had previously applied, to wait for it to be issued. Inside the double doors they were greeted by a leather-lunged marathoner from Pennsylvania named Lynn. She was cooly efficient and directed them to either a desk for processing or a waiting area. She handed out tickets with numbers to insure an orderly flow. When I saw the roll of tickets I asked her what time was the 50-50 drawing, and she gave me a baleful glare. Clearly I was a smart ass and she didn't appreciate it.
Our role as mental health workers was to spot applicants who appeared to be angry or particularly bummed out looking and do a bit of on the spot counseling. We were also to be available for stressed out staff. Doug and I sat on folding chairs at the end of the row of those waiting and Lynn brought clients with complaints to us. She brought us several Vietnamese family groups, not because they had mental health issues but simply because she didn't want to take the time with their broken English. With absolutely no knowledge of their language, Doug and I acted as translators for those taking the applications. Fortunately we had some written instructions in their language to give them, and we also had plenty of time to try to discern what they were trying to say
Beyond the Vietnamese, there was one particularly upset man that Lynn ushered our way. He was an unemployed diesel mechanic -- an evacuee from the New Orleans area. He was a wiry, muscular man with tattoos. He also had sole custody of his two year old daughter, Angel. He explained that his "old lady" had left them. They were temporarily living in their car because their apartment was being fumigated. The daughter had scabies and numerous bug bites. He did not qualify for the debit card and was running out of money and gas. He had been unable to work because he had to take care of his daughter until he could get her back in a daycare. Many kids from Baytown to Beaumont had no daycare to attend as their facilities had either been damaged or had no electricity. He vented to Doug about the run around that he had encountered. I got a stuffed animal and a coloring book for Angel. There was nothing the Red Cross could offer him at this service center, but we called in a large black man named Charles who was second in command at the service center. He was retired a retired police officer and a native of the area. We had been told that he was the expert as far as knowledge of local resources. Charles listened patiently to his story. He gave the man an address in Houston where he could get help. When the man said he was about to run out of gas, Charles reached into his wallet and gave him a $20. The man started to get choked up and so did I. As they headed toward the door I gave the man and Angel a couple of Riesen's chocolate covered caramels and they left with smiles. For me, that one interaction made the whole day a success.
Earlier in the day I had been told that the following day I would be going out into the community as part of a team doing assessments. The team consisted of a damage assessor, an application processor, a nurse and a counselor. That sounded fine to me. At last a meaningful role that I could get comfortable in filling. Bonding with a team sounded good. But no, at five o'clock, a call came from headquarters and the story changed again. On the morrow I would be driving to San Antonio to find Bob Knight.
Bob was the sole counselor for staff care at the big shelter at Kelly Field in San Antonio. According to headquarters he'd gone out there several weeks before and they'd lost touch with him. I was to make contact with him and relieve him in "out-processing" staff. He was due to go home in a day or two. I felt like I was going up the river to find the renegade Col. Kurtz in Apocalypse Now. Once again, my role seemed very strange.
That evening Doug and I had dinner together in the very fine restaurant at the Hyatt. We were both starting to feel a bit acclimated to the chaos of Red Cross disaster work. The $23. sirloin helped focus my mind as well.
Early the next morning I headed west on I-10. San Antonio was almost a four hour drive and the further I got out of Houston the better I felt. The flatness of Houston slowly gave way to rolling grassland and wide open spaces. Having lived seven year in New Mexico earlier in my life, I started to feel like I was coming home again in the vastness of Texas.
Kelly Field is a WW II era air force base a couple miles down the road from Lackland AFB. Apparently, most of its abandoned buildings had been turned into an industrial park. A massive building that had formerly housed offices was serving as a shelter for Katrina evacuees. The building was over a quarter of a mile long. There were five large dormitories and at one time several thousand people were housed there. Kelly's census was now down to about 500 and the Red Cross was turning over the running of the facility to Shaw Services. Shaw just happened to be a subsidiary of the ubiquitous government contractor Halliburton. Many of the Red Cross volunteers were unhappy to be leaving the facility. The consensus was that the Shaw people didn't know what they were doing when it came to running shelters.
My role at Kelly was to help Bob Knight "out-process" or debrief staff. We were stationed in the Staff Health offices with two public health nurses from South Dakota. Sally and Anne had never met before even though they were experienced Red Cross nurses from the same small state. In fact they lived about 120 miles apart. Sally was around 65 and retired from working in public health on Indian reservations. Anne was early 50s and still worked in the field of industrial health and was a consultant for OSHA. Both were sharp as could be and were helpful in orienting me as to my role. Bob Knight was 72 and a retired social worker from Washington state. He had been working very hard at Kelly for several weeks and was ready to return home.
Part of the out-processing procedure for Red Cross disaster workers is a brief interview with a mental health professional. Basically, we asked them about stressors and allowed them to vent about any bad experiences they may have had. We also asked them about high points of their service, and if they would volunteer again. After the interview we initialed a form they brought with them. Mental health workers have the power to send workers home early that do not seem to be coping well and also can recommend that a volunteer not be used in the future. Because of that role some of the staff were apprehensive about talking to a mental health professional. Many of the volunteers were 55-65-ish salt-of-the-earth folks who were retired from successful careers and were the pillars of their home towns. They had never spoken to a "shrink" before and some were clearly a bit nervous about it.
For me it was a pleasure to talk with compassionate people from all over this country. Most were very upbeat about their Red Cross experience and had few complaints. I interviewed several husband and wife teams. Most I interviewed had been shelter staff and worked directly with the evacuees. I recall one beefy young man who didn't quite fit the mold. He had tattoos and earrings. In his other life he was a bouncer at a club in the New York City area. His role in the shelter was not much different. His designation was "Security." He and several others I met had also worked the 9-11 aftermath.
Security was very tight. Even with a Red Cross ID badge I was wanded by a uniformed police officer before I could get into the shelter. We had to sign in and sign out. Briefcases and backpacks were inspected. A 55ish retiree from Michigan named Dale took me over to the facility operations building to get a shelter ID badge with my picture on it. He had been at Kelly 44 days and was leaving the following day. He had had an executive job with his company before retiring and I found it inspiring that someone with his background would devote over six weeks to a disaster relief effort. He was typical of many that I met, and encountering people like him reassured me of the basic strengths and inherent goodness of our country's human resources.
Many of the evacuees left at Kelly were former residents of New Orleans' devastated Lower Ninth Ward and had no homes to go back to. They would be living at Kelly till FEMA provided housing. Others were special needs folks. They were either physically or mentally disabled. Many were in wheelchairs. Most were African-Americans. Overall, they were a pretty sad lot. Some had been sent back on buses to see their former homes in an attempt to achieve some closure before returning to Kelly. Acts of compassion and kindness by shelter staff were rampant, but they were, of course, shadowed by a harsh, cynical attitude amongst other staff. A commitment to helping made it difficult for some Red Cross volunteers to turn the program over to an organization for which it was just a job.
The Sunday before I left for Houston, Pastor Hunter's sermon had been on the story of the Good Samaritan. In fact, that parable was deemed so important by Dr. Hunter that it was the text of his message for six consecutive weeks. Its message is one of the key passages in all of Scripture. The sermon of the 16th focused on seeing people as people and not as categories. The priest and the Levite both easily ignored the beaten man and would have looked down on the Samaritan had they met him. Samaritans were apostate Jews and thought of as little above dirt. Yet it was the Samaritan who was compassionate to his fellow man.
It was a message I needed to hear. Seeing people as categories is one of this Christian's major downfalls. Everybody is viewed on a continuum or scale: fat-thin; attractive-ugly; gay-straight; black-brown-white; Anglo-Latino-Redneck; smart-dumb-dumber; affluent-middleclass-poor; Christian-Muslim-Hindu; American-foreigner and so it goes. The amount of weighing, calculating, scrutinizing and judging of folks in my usual state of mind is not a pretty sight. It often leads to a very cold, condemning attitude toward people that I should be open and giving toward. Dr. Hunter's sermon compelled me to emulate the Good Samaritan as best I could.
I sensed that being shoved out of my comfort zone could either cause me to backslide into a defensive, ego-protective survival mode, or it could free me up to the possibility of seeing and loving all people as brothers on the same hazardous journey. We are, after all, just one disaster away from being residents of the shelter as opposed to working as staff in the shelter. I prayed fervently to be open to loving and not judging others, and as I mentioned earlier, to doing my work in a fashion that would perhaps give others a glimpse of Jesus.
Housing arranged for a room in a modest motel by the airport. It was a 25 min drive to the other end of San Antonio, but I felt more at ease in the Microtel than at the Hyatt-Regency. Quite a few other Red Cross workers were billeted there and they had bonded with each other. That evening I was standing out front wondering which of the closest neighborhood restaurants I should walk to. My choices were a What-a-burger and a rather unsavory looking Chinese restaurant. Several other workers were standing out front smoking and waiting for the rest of their group, and the Lord graciously arranged for me to have dinner companions. They spotted my Red Cross ID and asked if I would like to join them for dinner. We were a party of 15 and I dined with them both nights I spent in San Antonio.
They were a diverse bunch but tended to be younger than many of the volunteers I'd met. Several were in their early-20s. There were two cute Latinas from the San Francisco area. An unemployed young man from rural Ohio, Dan, who I perceived to be a recovering alcoholic. Rob who was from the D.C. area and who had a master's degree in community development or some such field. Jackie, a vivacious housewife in her late 40s. Eric, a large, talkative, somewhat effeminate young man of Italian ancestry. He had a lot of Red Cross experience and was a supervisor. Tim, a biker from Wisconsin with a shaved head and fu manchu mustache. He chain smoked Lucky straights. And Donita, a pale, plain looking woman in her late-30s from Washington state who had considerable missionary experience in Central America. We spoke at length about our missionary adventures, though the months of hardship Donita endured put my couple weeks to shame.
All in all it was a pleasure to have warm, talkative folks to share dinner with and I hoped that I made as much impact on them as some of them did on me. Several seemed interested in the fact that I was a Christian counselor and I shared some of my testimony with them. I talked with Donita about my book on coping with depression and she said that her husband struggled with depression and that she would encourage her husband to read the material on my website.
My time at Kelly was all too brief. I enjoyed the out-processing interviews and the staff I'd met there. In less than 48-hrs I was back on the road to Baytown. Once again my comfort zone was going to be stretched. When I arrived back at the hospital in Baytown I proceeded to the fifth floor mental health office. George and the others looked startled when I walked into the office. Someone said, "What are you doing here, you're supposed to be in Beaumont." So in less than 15-min. I was back on I-10 headed toward Beaumont 60 miles to the east.

The big staff shelter for disaster workers in the Beaumont area was at a county complex and fairgrounds located right on I-10. At the center of this complex was the Ford Exhibit Hall. Next to this enormous building there was an outdoor arena for concerts called the Ford Pavilion. My first assumption was that this was either currently or formerly owned by the Ford Motor Co. I phoned my cousin in Ohio on my cell phone to see what he knew about this impressive complex. He had retired from Ford after 35 years and I assumed he knew everything about the company. He had never heard of it. I found out later that Ford's only involvement was paying to have their name used, as is so often the case now with new arenas and ballparks.
Once again, the scene at this complex was one of organized bedlam. I sauntered in to the Exhibit Hall and asked directions to the mental health office. It consisted of a folding table tucked into a far corner of the big hall. Behind it was a large hand lettered sign with a big red cross and the words: Mental Health. In front of the table was a circle of folding chairs and to the right was an office room divider. On the other side of it were folding cots and air mattresses--welcome to the female staff sleeping quarters. Seated behind the makeshift desk was Michelle. She was a young counselor with long brown hair who spoke with a strong New York accent. She welcomed me and explained that all of the other counselors were out in the field. As we spoke a chunky young lady approached the desk and asked to speak to a counselor. Michelle looked relieved when I said that I would speak with her.
Michelle stated she needed to fill me in on the situation there in Beaumont before I spoke with the girl. The girl was upset because staff were being pulled out of the field. The day before there had been a couple incidents in rural communities an hour north of Beaumont. In Woodville and Jasper Red Cross staff had felt threatened. Some people were angry because they were not getting approved for the debit cards. Jasper was the heart of KKK country and some threats were made to Red Cross workers.. In Woodville a Red Cross worker was approached and asked to take a suspicious package back to headquarters in Beaumont. Because of these two incidents staff were being pulled out of the field and operations were being greatly downscaled in the Beaumont area. The girl had been part of the rural teams and she felt badly that some of the clients promised cards were going to be let down. She was quite upset and was talking about going back home early. She felt that supervisory staff had over-reacted to the perceived threats. She also complained about the mixed messages and overall chaos of the mission. Clearly, her high expectations of Red Cross work had not been met. She vented for about 30 minutes and I expressed sympathy for how she was feeling. She said she would have to give her decision some thought, and she left appearing to feel at least somewhat relieved.
Shortly after I spoke with the irate girl, Beth Roesseler, the mental health supervisor arrived back from a meeting in Baytown. She suggested that I spend the rest of the afternoon at one of the neighborhood service centers in Beaumont. I was given directions to the makeshift office in the Fifth Ward. Beth gave me the counselor's cell number in case I got lost. Of course, as was the case with other direction I'd been given, they were worthless, and almost predictably the counselor didn't answer her cell phone. After 30 minutes of aimless wandering thru Beaumont's devastated neighborhoods I found my frustration at the boiling point again. I wondered if Rita had accounted for the missing street signs. I eventually stopped at a 7-11 and asked directions. I was given directions to a Red Cross service center located in a community building in a nearby park. It was not the Fifth Ward but at that point it didn't matter. I was there mainly to get oriented to the task of issuing debit cards in the field.
While driving around Beaumont I saw considerable storm damage. Signs and limbs blown down, houses collapsed under toppled trees, blue tarps on roofs and piles of debris in every yard. It reminded me of storm damage in the Orlando area from the previous summer. However, my understanding was that the destruction in Port Arthur and Orange was far worse than what I observed in Beaumont.
I spent the rest of the afternoon shadowing a Spanish speaking counselor from northern California, Linda Ramirez. She was not a native Spanish speaker but was married to a man from Argentina and was fully bilingual. At that particular service center her language skills were helpful as almost half of the clients were Latino. Basically, we were working as greeters, much as I had done at Montgomery-Ward earlier in the week. We offered instructions, bottled water and a few words of sympathy to those waiting.
The county complex where the Rita relief effort was headquartered was under the overall management of the U.S. Forestry Service. Also, located there were the Red Cross, FEMA, the Army Corps of Engineers, the Salvation Army and the U.S. Geological Survey. The camp had a military feel to it. Most slept in the big exhibit hall on cots and air mattresses. Tents were pitched both inside and out. Some workers lived in mobile trailers and motor homes. Food was served out of a portable kitchen and the showers were located in big trailers that served only that purpose. Tanker trucks on the property provided ample fuel for official vehicles.
That evening there was a meeting at 6 pm for all the mental health personnel. About 15 counselors were seated in a circle and Beth presided. She reported on the meeting in Baytown and went over the rationale for scaling down the operation in the Beaumont area. Much of the work had already been done, but it was also deemed by those in charge that staff in some of the rural counties could be at risk. Their overall commitment was for the safety of the workers. Thus, for most, the following day, Saturday, would be their last day in the field, and on Sunday most of the staff would be relocated to Baytown. Some were unhappy about this, but to others it made little difference as their tour of duty was about up. Being the new guy, I just sat and observed. I was once again struck by what an odd bunch counselors are, and how often I did not feel comfortable with my peers. However, a few were friendly and I attempted to bond with them.
After the meeting my main concern was getting a cot and a spot to settle in for the night. Before leaving San Antonio, Anne had provided me with bedding. I had a new set of sheets, a blanket and a pad. I found an air mattress abandoned by a recently departed worker and made up my spot. It backed up to a cement block pylon with an electrical outlet on which I could charge my phone, and a folding chair served as my nightstand. After making up my spot I went to the mess tent for dinner. The entree was meatloaf and mashed potatoes. There was also a large salad bar and plenty of desserts and condiments. Quite a few of the counselors had gone out to dinner but they hadn't thought to invite me. This slight was no big deal but it contrasted interestingly with the hospitality of the workers I met in San Antonio. Sitting in the tent watching the workers come and go I was again struck by both the greatness and basic generosity of our nation. Hundreds of people, mostly volunteers, of all age, races and stations in life had come together on Texas' gulf coast to provide relief to their brothers and sisters in need. Several hundred miles to the east the scene was being repeated even more intensely for the victims of Katrina.
I turned in rather early--lights in the big hall were turned off at 10:30. The white noise of the air conditioning system drowned out all snoring and other incidental noises and I slept surprisingly well. I tend to sleep better when its cold and that enormous room with its concrete floor was freezing. I curled up in my bedding and was quite snug. Overnight a powerful cold front had come thru and morning temps were in the 50s and driven by a strong wind from the northwest. The gulf coast had suffered a record breaking heat wave in the weeks after Katrina and the heat wave contributed considerably to the misery of those trying to survive without electric power, and so the brisk air that Saturday morning was most welcome. After breakfast I sat in my car and listened to the radio and turned the heat on briefly. I found a station that played mostly Cajun music and an NPR station affiliated with a black college that played mostly blues and jazz. That Saturday I spent with a team in the field issuing debit cards. We were set up in the parking lot under the large front awning of a non-denominational church: The Church On The Rock It was a rather new building whose architecture suggested a fancy warehouse. It was most likely one of the new paradigm churches--upbeat, consumer driven and featuring contemporary worship music. Though large, it couldn't have been terribly successful as yet because they only advertised one Sunday service. It was also locked and no members of the church came by to check on the volunteers in the parking lot. A porto-potty served as our restroom.
The other counselor was Gloria Echevarria, a psychiatric nurse from the Itascadero Prison in California. The other workers were Marianel, a middle-aged special ed teacher also from the West Coast, and Jim and Maia, a young couple who appeared to have paired up. Maia was from Canada and her vest said Croix Rouge. Jim was a pale, balding young man from Harrisburg, Pennsylvania. We were watched over by Officer DeVault of the Beaumont PD. He was a big, deeply tanned man in his late-50s who entertained us with stories about his vacations in Maui and the Caribbean. His wife had a very good job as a consultant and her perks included conferences in exotic locales.
In terms of work it was a fairly easy day. Folks came in to pick up cards they had applied for earlier in the week. Most were very happy to be getting some money; only one or two were surly when they found out their cards had not yet come in and that they would likely be mailed to them. Gloria was the problem solver and stayed on the phone to Dallas checking on the status of applications. There was little for me to do but listen to officer DeVault's stories. However, I did encourage a few in venting about the hardships they had endured the past couple weeks. Later in the day I got on the phone and called applicants to tell them their cards were in and that they needed to come down before we closed. It was easy to be the bearer of good news. We stayed open till 6 pm and predictably several applicants arrived at the last minute and so we stayed late.
By the time I returned to the Ford complex and cleaned up, most of the counselors had again left for dinner out. I was disgusted to find that someone had deflated my air mattress. While I was standing there looking at my bedding two apes came by and stated that their orders were to pick up all the mattresses and throw them out. I was left speechless by this stupidity but there was clearly no point in arguing with them. I scrounged around and found an abandoned cot and made it up to sleep on that night.
I again ate alone and sat in the mess tent feeling slightly sorry for myself. Afterwards, I went back to the hall and struck up conversations with the other odd souls left behind in the camp. I had met Mark Schmitt and Dr. Stanley Spiegel the previous night following the meeting. Mark was a retired VA counselor from Eau Claire, Wisconsin. Stanley was from Santa Fe and clearly the oldest one in our group. I figured his age to be somewhere between 68-73. Stanley was a retired New York psychoanalyst and he had brought with him a copy of a book he'd written on psychotherapy with children and adolescents. His age and degree lent him a certain amount of status amongst the other workers. He was also a character. He had a wild shock of silver hair reminiscent of Einstein, a spring in his step and a wink and a leer for the younger ladies.
The plan for the following day was to pack up and move to a shelter at a Baptist church in Baytown. Mark, Stanley and I were discussing directions to the shelter and looking at a map. Stanley remarked, "Now when I was a navigator in World War II ..." The rest of what he was saying did not register with me. I was dumbstruck by the revelation that his age was around 80, and in awe of his having spent the past ten days sleeping on a cot in our drafty makeshift dormitory. Perhaps, I'm too much in awe of those Tom Brokaw has termed the "greatest generation" but in the presence of WW II vets I often feel like I'm in the presence of royalty.
Again I slept fairly well. I awoke up around 5:30 as I often do. I had found a pair of rubber flip-flops and I padded over to the shower trailers. They were empty when I got there. The hot water in the trailer I selected was not working. I let it run for quite some time and it progressed from ice cold to not quite cold -- certainly less than lukewarm. Nevertheless, I eventually got in and my shower was brisk beyond refreshing.
I met Stanley at breakfast and we told each other about our lives. He had retired to Santa Fe with his third wife about seven years earlier. She was an artist and he seemed quite proud of her; she'd done the portrait of him on his book. He'd gotten his Ph.D. at the University of Florida in the early-60s. I thought that it was an odd symmetry in our lives that he'd been educated in Florida, and now lived in New Mexico, whereas I'd been educated in New Mexico and now lived in Florida. We both noted that we were from very dysfunctional families. He stated that when he was 16 he ran away as a steward on the cruise ship Kungsholm. He chuckled that when he returned after three weeks in the Caribbean that his family hadn't realized he'd been gone. He mentioned that during the war all of his service had been stateside. He'd been a navigator on a B-17 and a C-47, but the war ended before he was due to be sent to the Pacific.
Most of the counselors took off early to go sightseeing before settling in at Baytown. Some drove down to Galveston. I stuck around and helped Beth pack up. She was a retired professor of counseling from Xavier University in Cincinnati, and I found her to be particularly warm and likeable. As I was leaving the Ford Center she yelled at me from across the room. She said, "I've got some good news." A few motel rooms in the Baytown area had come available and she said I could have one if I wanted to share it with Stanley. That was great news, as I was not up for more nights on a cot in a makeshift shelter in a Baptist church gym.
Stanley and I were roommates for just one night but I know that events like that are what my friend Georgia Ana calls "holy introductions." His worldview and mine are quite different but I think we both profited a bit from the interaction. He seemed fascinated by the fact that I was an evangelical Christian and didn't seem to be a Scripture spouting moron, and we both seemed to be in love with the ineffable, inexplicable mystery of existence. He wanted to go sightseeing that afternoon and so we drove a back road 20 miles down to the gulf. He was disappointed that there was no public beach, just a lot of big expensive homes. However, we had a lively conversation throughout the drive. Like many New York Jews I've met over the years, a cynical and argumentative facade concealed a warm and generous heart .
We also drove by the local Wal-Mart so he could get some swim trunks and goggles. Back in Santa Fe he swam a mile five times a week and over the past two weeks he'd greatly missed his workouts. We returned to the Super-8 and he swam a half a mile in the motel pool before we went for dinner. We ate at a fine Italian restaurant. Since I was driving, Stanley had a couple Martinis before dinner. After the swim and the food and drink he was ready to turn in early. It was apparent that the nearly two weeks in the shelter had been difficult for him. My assumption was that he'd worked many Red Cross disasters and I was surprised to find out that this was his first. His wife had been reluctant to see him go, but he stated that he wanted to do this one because at his age he might never have another opportunity. He was disappointed that he hadn't been able to do more conventional therapy with kids suffering the emotional effects of the disaster but he still felt that the trip was worthwhile. Stanley was truly a man amongst men and meeting him was one of the high points of my trip. He gave me hope for a more active and meaningful life in my soon to be happening "golden years."
The next morning I anxiously watched the progress of Hurricane Wilma on CNN. It appeared that it was making landfall well south of where I live in Florida. Nevertheless, central Florida would get some wind and rain, and my friend Barbara had gone by my place the afternoon before and secured deck furniture and flower pots. I also knew from the storms of '04 that a hurricane's course could be altered rather abruptly, and I was hoping that I would not regret being in Texas instead of home. I went down to the motel's lobby to get coffee and try their breakfast bar. It was meager. There were two different kinds of cereal, bananas, doughnuts and muffins. An almost empty gallon of milk and a jug of some sort of juice/punch were in a mini-fridge next to the bar. I had a bowl of cereal and continued to watch the weather news in the lobby. Stanley eventually arrived and was pleased to see that had his usual breakfast fare: raisin bran and banana. He fixed himself a bowl but by then there was not much more than an ounce or two of milk left. He remarked to the goateed young man at the desk that they needed more milk. The youth smirked and made a smart remark to the effect of "good luck." Stanley exploded: "YOU THINK THAT'S FUNNY? I DON'T THINK THAT'S SO DAMN FUNNY." He snarled with such ferocity that the youth became wide-eyed and stammered apologetically: "Oh, uh sir I'm so sorry, I didn't mean anything by that." By then I was chuckling at the smart-ass's comeuppance. He had smirked at the wrong customer.
All the of the counselors were scheduled to meet at the Montgomery-Ward store that morning for a meeting in which we would be given our new assignments. Stanley was flying out of Houston later in the day but he stopped by to say his farewells. Victor called us together in an empty area of the abandoned store. We stood in a great circle and I counted 38 or 39 mental health workers. Victor led us in a warm up exercise. We sang a chorus of Singin' In The Rain and we flapped our arms like ducks. It was silly but it did loosen the group up a bit. Organizational charts were handed out with our new assignments. It was clear to most of us that at that point we were way over-staffed. Most were assigned to be backups to the 200 or so workers manning the phones. Counselors were to be available to intervene during a difficult call, and were also to provide counseling and stress management to the phone staff.
Several counselors asked about being sent on to south Florida to work the aftermath of Wilma. They were told to go to their homes and rest up for a day or two and then go to Florida thru their home chapters. This struck most as unnecessarily cumbersome. Clearly, Red Cross line staff would be needed in south Florida in the next few days. We had been told that supervisory and logistical staff had already been sent on to Florida.
That afternoon and for the next couple of days I went back to the role of greeter. Myself and a couple other counselors took turns standing by the door. I fetched teddy bears and other stuffed toys for the toddlers, coloring books and crayons for those old enough to color and bottles of water for the adults. I offered particularly depressed looking evacuees "medication" -- the chocolate covered Riesens. Most were appreciative of those small kindnesses. I would start conversations with those waiting by either asking if their power was back on yet, or asking if they'd had much damage. That was usually all it took to get them to begin venting. Most seemed relieved to tell their stories, and the fact that I'd experienced three hurricanes the summer before in Florida gave me some credibility.
I was pleased to be assigned to the door. Most of the mental health personnel were simply hanging around feeling useless. Gloria, Linda and several others kept themselves busy making phone calls to applicants. I'm not generally one that will go looking for work but I felt that my time in Texas was a ministry and that the only way I would make any difference was by talking with people, and so I spoke with the clients and with the staff. It wasn't too difficult to spot either those with a need to talk or the other evangelicals. I struck up a rapport with an African-American lady who was processing applications. She spoke about her church, her spiritual growth and about techniques she employed to witness. I was able to donate to her church a perfectly good but used air mattress and some bedding that I had in the trunk of the car. I had brought it to Baytown thinking I'd need it at the Baptist church shelter. My understanding was that the Red Cross would throw it out, and I was relieved that someone would get use out of it.
I also spoke at length with was a young mother and her two exceedingly well behaved sons. The younger boy, around seven, mostly snoozed with his head on his mother's breast. The other boy, a year or two older, meticulously worked on coloring in the official Red Cross After The Storm coloring book. The mother vented about the disruption in their lives caused by the storm; she home-schooled her sons and it seemed obvious that was what accounted for their exceptional behavior. I gave her a friend's website address that has lots of resources for Christian home-schoolers, and she seemed very appreciative.
One of my goals for the last couple of days was to get some kind of recognition from Lynn, the leather-lunged lady who greeted applicants at the door and kept the flow going. Clearly, earlier in the week her demeanor suggested that mental health personnel, me included, were pretty much useless. At times she seemed a bit harsh with the applicants but I noticed that she hugged many of the other workers and seemed very much appreciated by them. I was not looking for a hug but for at least some small sign that I had a meaningful function. One of the application processors near the door was a tall slender blonde lady who had acquired a bit of celebrity. She and her husband were big Astros fans and they were seated near third base and were briefly on the network World Series coverage while attempting to catch a foul ball. I was rooting for the White Sox but felt badly for the Houston fans that the Astros didn't make a better showing. The Houston fans and media were far more gracious about being swept than the Chicago fans would have been in the same shoes.
On Monday and Tuesday evening a group of us had dinner together. I joined Beth Roesseler, Linda Ramirez, Mark Schmitt and John Burke. Like Mark, John was also from Wisconsin and someone I could relate with easily. He was a psychologist working in cognitive rehab. He also had lots of Red Cross experience, including the 9-11 aftermath. He was a native of New York and was able to stay with friends while he counseled the clean up workers and escorted family members thru the makeshift morgue in New Jersey.
We went to a Mexican restaurant one night and dined in a Japanese/Korean restaurant the following night. It was a blessing to be able to share food and fellowship with warm, interesting people. It was clear from our discussion at dinner that there was little for mental health to do at that point. They needed at best a handful of counselors as opposed to 30-some. Beth was scheduled to leave on Wednesday and both John and Mark asked to get out of their commitments early and they left on Thursday. I also applied to leave two days early.
The last four nights I stayed in the room at the Super-8 by myself. Not putting another staff person in there to share the room with me was just one of the many examples of waste that I observed. It was clear to me that after we redeployed from Beaumont to Baytown that substantial sums of money were being squandered on housing and feeding under-utilized mental health personnel. It seemed an example of poor planning at the executive level. However, in defense of the Red Cross, its probably quite unrealistic to think that disasters can be "planned" or effectively micomanaged. Consider that the American Red Cross is the world's largest charity. It has 35,000 employees and over 900,000 volunteers. It was the primary fund raiser for the Indian Ocean tsunami. Its budget is in the billions and the hurricanes and disasters of the past couple years have caused them to have to borrow money.
My commitment was up on Sunday, but I applied to leave on Friday and it was approved. Before she left, Beth did my evaluation and made some very positive comments. I indicated that I would volunteer again if and when I was needed. Thursday afternoon I was "out-processed" but I went by Montgomery-Ward in the morning to spend an hour or two at the front door. Lynn greeted me with a warm smile and a hearty "hello." My goal had been achieved. I had apparently finally made somewhat of a favorable impression on her. Most of the mental health staff were sitting around looking bored, and I was glad that my time in Baytown was up.
That afternoon I spent at the hospital. I was debriefed by a newly arrived counselor--a hospital chaplain from Connecticut. I got to talk a bit with Doug Kirk the first staff person I'd bonded with; he spent his entire time doing out-processing interviews at the hospital and he stayed at the Hyatt Regency for two weeks.
I was glad that I'd had such a diverse experience; I was surely the only Red Cross counselor in Texas that worked in three different locales, and perhaps because of that I likely interacted with more staff than any other counselor. I felt a bit disappointed that I hadn't had more meaningful contact with the storm victims; at times I felt under-utilized but I know God had a hand in the whole experience and there's no way for me to know for certain how He used me. But I know that He did.