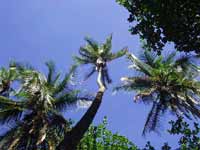 Since about 1995, I had thought that one day I would go on a mission trip. However, I didn't know when or where that would take place. My church, Northland - A Church Distributed, in Orlando sends out quite a few short-term missions, and I imagined that at some point I would commit to one. Northland missioners go all over the world and to impoverished locales in this country as well.
In November, 2003, I finally faced my mortality and decided that I should make out a Will. Of course, we avoid these things because in our magical thinking we believe that if we really make out a Will then we are all too ready to go, and the grim reaper's just waiting for us to sign the papers. Per my input, my attorney and friend, John Michael, prepared the document. My good friends Barbara and John Taylor also had Wills made at the same time. We agreed that we would meet for dinner one Sunday evening and witness the signing of each other's Wills. John brought the documents in fancy envelopes and we and a neighbor ceremoniously signed and witnessed them.
But my envelope contained more than just my Will. In it was a brochure describing a mission trip to the Dominican Republic. My friend John was thinking about signing up. John is a Roman Catholic and attends St. Mary Magdalene in Altamonte Springs. Most going on this trip scheduled for January '04 would be from that parish. The Catholic Diocese of Orlando has a sister diocese in the D. R., the Diocese of San Juan De la Maguana and the focus of the Orlando's Diocese's mission effort is their sister diocese in the D. R. They send out medical, construction, educational and agricultural missions to that very impoverished corner of the Caribbean.
When I saw the brochure and application a chill ran thru me. It was one of those defining existential moments when our good intentions and our faith becomes translated into a reality, and a reality that demanded trust. It was a complete surprise, and as such I felt the trip was meant to be. God has worked in my life in totally unexpected ways and this serendipitous event seemed clearly another example of His plans for me.
Now, I must tell you that I'm not the most adventurous person. Regrettably, I've lived my life to be safe. Its just been in the past couple years that I've started flying again after grounding myself for three decades. I had dreaded ever getting on an airliner again, but the Holy Spirit working thru a trusted friend's input and Brennan Manning's writings ministered to that fear. Many things make me anxious beyond just flying, and I'd structured my life not just to be safe, but comfortable as well. I've allowed myself to be defined by the narrowness of my comfort zone. I get edgy just driving thru the bad side of town, and extended interactions with strangers often leaves me feeling drained. Being safe and feeling comfortable is a mistake that many well-meaning Christians make, and it is a folly that limits our growth and vitiates Jesus' command to love our neighbors.
The brochure snuggled alongside my Last Will and Testament described the Dream Builders Project. Thirty-seven 20x24, four-room houses were being built in an isolated village deep in the mountains--Guayabal. Pictures showed the dilapidated huts that served as housing for most of the residents of this hardscrabble hamlet. Short and long term missioners from the U.S. were working along side Dominicans who were earning solid dwellings with their "sweat equity." The project was in its third year and nearing completion. The whole missionary effort of the Orlando Diocese, including the Dream Builders Project, was overseen by Sister Bernadette, a 60ish Irish nun of the Ursuline Order.
John and I attended several planning meetings at St. Mary Magdalene. He knew several of the missioners from Habitat For Humanity projects. Overall, I was very impressed with the men and women committed to Dream Builders. All were middle-aged and some were already retired. Some were in the building trades and obviously had a lot of knowledge about construction. Many had gone to Guayabal several times. Their enthusiasm and genuine affection for the Dominican people was infectious and their very upbeat attitude helped allay my anxiety about committing to the project. I had wondered if perhaps it was no coincidence that my Will and the application were paired. At the very least I worried about dysentery, outhouses, tarantulas and poisonous snakes, but by early December I could equivocate no longer and I mailed my check and application to the Diocese Missions Office.
Our team of nine flew out of Orlando on Saturday, January 17th; all of us except for John would return the following Saturday. John had made a three week commitment. Our team would be followed by two more teams and John would end up working with three separate groups.
We were a diverse bunch. One female, two native Spanish speakers and an age range from early 40s to mid-60s. Cecilia Wise, Art vanderStuyf and Dick Anthony had been to Guayabal before. They were all retired. Art had been a New York cop, Dick worked for a contractor in the space program and CeCe was the wife of a man who also worked in the space program. She was originally from Panama. She along with a computer programmer, David Salazar, were the native Spanish speakers. Paul Kelly owned a small office supply business. Tom McGuane was an Orlando cop. John Michael an attorney. I wasn't sure of John Felter's occupation but he seemed to have a lot of construction skills. Already in Guayabal were Jack and Barbara Spencer, a retired couple from Ocala who were the long-term coordinators of the project and had a home there, and Dick Terry, a 75-year old master electrician who was wiring the houses. Dick had been to Guayabal several times before and in this stint was in his third week.
We flew into Santo Domingo early in the evening. It was a relief to get off the plane. Though its a relatively short flight from Orlando, we changed planes and had a long wait in Miami. The smells and heavy tepid air informed us that we were in the tropics. Jack and our Dominican driver, Manuel, greeted us at the airport. We spent the night at a retreat house next to a nunnery in a upscale section of Santo Domingo. Sister Bernie met us at the retreat house, Casa San Pablo, and gave us a short lecture on how to behave--mostly, it consisted of don't drink alcohol and set a bad example for the Dominicans; she stated they looked up to Americans so much that we were almost godlike to them, etc.
Sunday morning we attended Mass at a church a few blocks up the street. During the walk to church the barred windows on the fortress-like homes served as a reminder that were we in a very poor city with rampant crime, and the loose chickens roaming the street reminded us that we were in a Third World country.
When we returned to the retreat house we sat down to a feast prepared by the nuns--mounds of scrambled eggs, sliced ham, fresh bread, orange juice, sliced tomatoes and papaya. We had no dinner the night before and we first-time missioners had little inkling of what victuals would be like in Guayabal and so we ate like men who faced starvation. After breakfast we loaded up a small 4-wheel drive Toyota pickup and a 15-passenger Ford van and headed toward Guayabal.
Santo Domingo is a sprawling city and the oldest in this hemisphere. Our route out of the city took us thru numerous squalid neighborhoods and rundown barrios. We took a highway that roughly paralleled the south coast of the island but which was a few miles inland. Near Biyeya Beach we briefly caught a breathtaking view of the Caribbean. We stopped at a gas station/convenience store/restaurant. Sister Bernie's instructions be damned--most of us guzzled 650ml bottles of Presidente while stretching our legs and using the restroom.
We drove on for about three hours and then turned north. The villages became smaller and more primitive and the Cordillera Central loomed in the distance. Guayabal is about 35 miles or so from Pico Duarte, at nearly 9,000 feet the highest point in the Caribbean. At Padre Las Casas the pavement ran out and for the last 40 minutes we climbed higher and higher on narrow gravel roads with sheer drops to the valleys below. We saw no other traffic except for a couple of motor scooters headed in the opposite direction. The terrain reminded me vaguely of the mountains of southern New Mexico where I went to college. Though the D.R. gets plenty of rainfall the terrain in the mountains had a slightly arid, barren look. We saw several washed out bridges and evidence of abandoned construction projects.
We crossed the shallow, rushing La Cueva River and passed a mile or so of rundown wooden shacks flanking the trash littered road and then suddenly we were in Guayabal. We drove to the fenced school yard and unloaded. The vehicles were parked there because it was a central and secure area in the village.
Guayabal's better homes reminded me a bit of Juarez, Mexico. They were stone or cinderblock covered with stucco, with wooden louvered windows, painted in bright pastels. The poorer homes were like nothing I'd ever seen. They resembled cramped shabbily constructed outhouses pieced together from scrap wood and corrugated aluminum. Some in fact were outhouses, but in others people resided. The streets were paved but animals wandered freely--chickens, goats, donkeys and their droppings mingled to form the sights and smells of Guayabal. It was also disconcerting to see children up to the age of eight or nine playing naked in the street. Burros and scrawny horses navigated the streets and were a primary means of transport and commerce.
The natives eyed us with a mixture of warmth and skeptical curiosity--another group of crazy norte americanos here to work on the houses that were rising on the edge of town. The exact population of Guayabal was a mystery. The best guess was around 3,000 but perhaps as many as 5,000. Guayabal was the center of commerce for isolated farms in the surrounding mountains and for several little hamlets a kilometer or two up the road. The natives were quite dark, a mixture of mostly Indian and African bloodlines. I only noticed three or four light skinned Dominicans in the week I was in Guayabal, and only a handful spoke any English at all. The town had only had electric power for three years, and overall Guayabal seemed more a part of colonial Spain and the 19th Century than it did the 21st.
The houses were being built at two different sites. Ten as yet unoccupied houses were already complete near the river. Twenty-seven more were in various stages of construction at a terraced site at the foot of the mountains. These were the homes we would be working on.
Guayabal was nestled between peaks that jutted up sharply from the river valley. The setting reminded me vaguely of pictures I'd seen of Machu Picchu and it was breathtaking. The elevation in the valley was about 2500 feet and the peaks flanking the town shot up another thousand feet or more. The rocky surface of the mountain face was barren in spots and wooded in others. Any bit of arable land on the hillsides supported pastures and bean fields.
After unloading our gear we proceeded immediately to the river houses and were given a tour and update on the construction progress by Jack Spencer and Dick Terry. After an hour or more inspecting the river houses we drove up to the other job site hard by the mountain. It was late in the afternoon and hot. Other than a few chips with the beer, I'd had no food since breakfast and I started to feel lightheaded and disinterested in the narration about what we would be working on the coming week. I tend toward hypoglycemia when I don't eat properly or on time, and by late afternoon I was feeling a bit woozy. Also, the stress of traveling and sleeping poorly was beginning to catch up with me. I sat down on a rock away from the group and tried to collect myself. I began to wonder if the mission trip was a mistake. Perhaps, I miscalculated and I was really too home bound and sedentary for the rigors of work in the Third World. Others in our group were asking relevant questions about the work--my only question was when we would have dinner. Eventually Dick and Jack finished their briefing and we got back in the vehicles and returned to Jack and Barbara's house. The others in our party headed for the homes in which they would be staying but John and I and CeCe sat for a bit in the front room. Barbara sensed that I was not feeling well. She made some iced tea and served us large glasses along with some cheddar cheese and crackers. Immediately, my spirits began to brighten.
The front room of Jack and Barbara's house had two doors that were opened on to the street, and their parlor seemed to serve as a salon and meeting place for that end of the village. Their home was next to that of Cruza, who was the matriarch of the town and it's unofficial mayor. Neighbors dropped by to check out the new missioners. We were introduced by our Spanish names, Carlos and Juan Miguel. All greeted us with hugs and I was immediately impressed by the extraordinary warmth and cheerfulness of the residents of Guayabal. CeCe spoke with Cruza and the others who dropped by in Spanish. This was her third mission trip to Guayabal and she was obviously a local favorite and well integrated into the life of the village.
After resting a bit, John and I trudged back across town to the home of our hosts Fabiano Corsino and his wife Elsa Sanchez. Senor Corsino preferred to be called "Bienvenido" and the name fit him well. He was as friendly and as welcoming a man as I have ever met. Both were school teachers. Elsa was about 44 or 45 and her spouse a few years older. They had children in college in Santo Domingo. Their youngest boy was still at home but they sent him to stay with Bienvenido's father while we occupied his bedroom. Typical proud parents, the walls of their parlor were covered with photos of their children. Their home was rudimentary by our standards but fairly luxurious for Guayabal. It had two front rooms--one of which served as a living room/dining room area and the other which was converted into a small store. The store carried a variety of new and used items--clothing, shoes, toiletries, candy, batteries, lanterns, machetes, etc. Bienvenido had an ancient Singer treadle sewing machine behind the counter and in the evening he would alter and repair clothing while watching their little television. Cable television arrived in the mountains along with the coming of electric power. They could get four channels. The telenovelas (soap operas) on Galavision and baseball seemed to be the favorites. Neighbors would drop by in the evening and chat with Bienvenido and Elsa and combine their visit with a bit of viewing of what must have still seemed to them a great novelty.
The rest of the house consisted of a kitchen, a lanai off the kitchen, three tiny bedrooms and a bathroom. I was relieved to see there was indoor plumbing but the way the house was configured afforded us minimal privacy. The kitchen was equipped with a small gas stove and a refrigerator.
Dinner was served promptly at six. That first night we had roasted chicken, rice and guandules (field peas), yuca ( a root vaguely like potato), fried plantains and lemonade. At various meals we were served fried salami, sliced cucumbers, sliced avocados and fresh tomatoes, rabado, kassava, as well as other tuberous roots strange to the North American diet. Bread and sweets were two items generally missing from the very healthy Dominican diet. We had plenty of fresh water from filtered 5-gallon buckets. The Diocese paid our Dominican hosts to feed us three meals a day and overall the food was very good. Breakfast generally consisted of either sweet oatmeal flavored with cinnamon sticks, or instant chicken noodle soup and hard boiled eggs. Sometimes we got the dry, crunchy tasteless rolls that they called bread along with a jar of Albertson's peanut butter undoubtedly left by a previous guest.
Elsa and Bienvenido spoke no English. Though apparently Elsa could understand some, and John and I concluded that she played a bit dumb to not let on that she could be tuning in to what we might be saying about them. Fortunately, John had several years of Spanish in college and could communicate well at a basic level. From living eight years in New Mexico I knew hundreds of words and a few phrases in Spanish but couldn't put them together in any meaningful way. However, meal times became a time to acquire more ability to communicate. John and our hosts would converse very slowly and he would provide a translation for me. For a month before the trip I had been listening to tapes and studying a conversational Spanish book. After a few days I overcame some of my reticence and would throw in a word or phrase here and there. When encountering Dominicans in the village or at the jobsite I customarily greeted them with "Buenas dias. Mi yamo Carlos. Como se yamo?"
It was very frustrating to want to communicate and to not quite be able to communicate. Often I would know a word or two of what I wanted to say but couldn't put it quite together in the right tense or sequence and would leave our hosts looking puzzled. At that point laughter was the best response. John arose early each morning and attended Mass at the little church in the village. I would be alone at the dining room table with Elsa, and I suppose my most meaningful interaction went something like. "Juan Miguel va?" Elsa would answer, "Si, Iglesia" and I would respond, "Si."
We walked about a half a mile to the jobsite and would usually arrive by 7:30 or 8:00. Even in January it warmed up enough that it was smart to get an early start. We worked in teams dictated by our skill level. John grew up in a family construction business in Pennsylvania. He has a wide range of building skills and was given the task of pouring the shower pans and installing the drains in the bathrooms. Dick Anthony assisted him. Art, Paul, John and Tom worked on putting up plywood on the interior walls. David and I worked together doing various odd jobs. We cut and screwed on pieces of steel framing for scabs to hang the Hardiboard on in the interior of the showers. The Hardiboard was used primarily for the exterior walls, but because it is waterproof it was used to line the showers as well. After that we worked on putting up exterior trim around the windows and doors. David was often called upon to translate for the Dominican laborers who were primarily digging and doing concrete work. When David was tied up with that I would work with CeCe and Barbara spackling and painting the interiors. Dick Terry continued the wiring and was teaching a couple of Dominicans the mysteries of electricity. Jack's task was to keep the flow of work going. Though he knew little about building he was a master at finding tools and resources and assigning work. He is a distinguished looking man with a icy glint in his eye, and he strode about the site wearing a broad-billed straw hat and looked for all the world like a colonial plantation master.
We would take a break around 10:00 and Jack would set a case of cold orange sodas and Pepsis on the tailgate of the Toyota. Chips and snacks were also provided. During one mid-morning break I saw a glint off something in the dirt. I reached down and uncovered two Dominican Pesos. One I gave to a kid who hung around the jobsite and the other I carry in my pocket to this day. At noon we took a two hour break. We walked back to our homes and ate lunch. We were encouraged to take a siesta but most rushed back to the jobsite and resumed work--typical workaholic Gringos.
We had more or less perfect weather that week. It got up to around 82 during the day and in the morning it would be a brisk 58-62. We slept under mosquito netting but at that time of the year they were little threat. Two heavy sheets or a light blanket felt good. We had a couple of very light showers. It was fascinating to watch the clouds form and drift between the mountain peaks and over the valley. I would be working intently and not look up for 30 or 40 minutes at a spell, and then suddenly I would stretch my neck and be dumbstruck by the beauty of the setting. The words of Psalm 121 would come to mind: I will lift up mine eyes unto the hills, from whence cometh my help. I felt the Lord's presence and the sanctity of His creation more than ever that week, and I also deeply sensed the prayer support of my friends back in Florida.
Work ceased promptly at 5:00. Tools were locked in one of the units and we walked back to our homes. Several of the guys would stop at one of the little front room stores on the street back to their quarters and purchase bottles of Presidente. No one got drunk or obnoxious and, though expressly against Sister Bernie's instructions, I think they were consumed discretely enough so as to not corrupt the morals of the natives.
After supper we had a mandatory meeting called "Reflections." It was held under a grass-roofed chicki in back of one of the homes. Cruza made a strong, sweet cinnamon flavored tea and CeCe brought a pot to the meeting. The first hour was devoted to prayer and a spiritual reading or topic for discussion. Dick Terry the 75-year old Korean War vet, master electrician and world traveler presided. He impressed me as a man-amongst-men and one on a life-long spiritual quest. The second hour of the meeting was devoted to a discussion of the day's work and planning for the following day.
After the meeting John and I would stroll leisurely back thru the town peeking in the little front room stores. Usually by 9:30 or 10 we were ready to retire. However, one evening we stayed up late socializing and I watched John and Bienvenido play dominoes. Both he and Elsa seemed curious about our lives back in the States. They were surprised that John had never been married. I tried to explain that I was divorced. Senor Corsino's observation was that life in the Estados Unidos had mucho problemos and that he felt privileged to live in Guayabal where life was much simpler.
Life indeed was much simpler in the mountains. Guayabal had no police force and no civil government in the town. Cruza seemed to act as the unofficial mayor. There was virtually no crime. No missioners had ever had anything stolen in the three years of the project--even though the people are impoverished by our standards and none of the houses have locks on them. Barbara stated that in a year she had only observed two fights. One was between a couple of school kids and the other between two drunken men.
Guayabal has only one satellite dish pay phone linking the town to the outside world. It was by the little medical clinic. Several days a week healthcare professionals visited the clinic. The rest of the time medical consultation was available via the satellite phone. John was able to use a local phone card to call his secretary and check on his practice. The natives of Guayabal appeared very healthy. Almost everyone was thin but none appeared malnourished. They eat a very healthy diet rich in fiber and low in sugar, and they get plenty of exercise in walking and in growing their own food. I saw no cars in Guayabal. Motorized transportation consisted of little Korean 4-wheel-drive pickups and motor scooters.
Children went to school a half a day, one shift in the morning and another in the afternoon. Clean, cared for looking children emerged from dilapidated hovels and walked to school wearing kaki pants and light blue shirts. Obviously, most had parents who gave them the best that they could. Though we were told to shoo them off, children almost always hung around the jobsite. Some came to practice their English and some just came in hopes of getting candy. Several youngsters brought their homework for David to check. They knew we had brought gifts but we were supposed to wait till the last day to give them out. Of course, most of us did not have that much self control and so the kids often got little treats that were meant to be saved till the end of our stay.
Our hosts had Rafaela, a young girl of about 11 or 12 who lived with them and served as a helper. She was from an isolated farm in the mountains. In exchange for her labor she could stay with the Corsino-Sanchez family and attend school in the village. Rafaela was shy and unobtrusive. She could most often be seen dusting, making the beds or sitting in the lanai shucking beans or field peas. How I longed to converse fluently with Rafaela and others in Guayabal. I wished to find out more about their daily lives--and beyond that, to reveal their hopes and dreams. I wished that I could capture more accurately the flow of life in Guayabal and touch the soul of its people a bit. Before and after the journey I had been reading Gabriel Garcia Marquez's classic Cien Anos de Soledad (One Hundred Years of Solitude) about the Buendia dynasty in the isolated mountain village of Macondo, and at times in my thoughts Macondo and Guayabal became inseparable.
By Wednesday I was beginning to stink. Though I washed my hands and face every day I badly needed a shower. I had been avoiding bathing due to the cold water and strange protocol of "spit baths" as they are sometimes called. Our host's home had a concrete shower stall in the tiny bathroom. One stepped down into it. A garden faucet was mounted on the wall and beneath it was a heavy rubber container holding several gallons of clean water. A metal pan was provided to toss the water onto the body. One lathered up and then rinsed with panfulls of ice cold water. I thought perhaps my heart would stop, but once the terror subsided it felt quite refreshing. It was not fun but I could live with it. Still, I did not bathe again until I had a hot shower Saturday night at the mission house in Santo Domingo.
All too soon Friday arrived. That morning we finished up a few small tasks at the jobsite. Jack insisted that we make a complete inventory of the tools and stow them in an organized fashion to await the next group the following week. We returned to our homes and packed up. I left a variety of small gifts for the host family: a battery free Faraday light that my stepson Jeremy imports from China, an official major league baseball, a set of towels, candy and a package stuffed with Radio Disney key chain lights and sun glasses. A friend of mine, Lisa Hill, was a producer at Radio Disney and provided several dozen promotional items. I wrote in my best Spanglish that they were intended for los ninos and that our hosts could perhaps use them for rewards at school. As the van started down the steep rocky path out of Guayabal I felt a strange mixture of feelings-- triumph and sadness--happy to be headed home and yet wistful about leaving the picturesque mountain village and its lovely people. We rode in silence for a while, till finally Art, in his heavy New York accent, expressed what many of us were feeling, "We come down hea t'help dese people and dey end up given fa more t'us den we can eva give t'dem." All I could add was, "Amen, brother Art!"
About an hour out of Santo Domingo we stopped at a little resort at Biyeya Beach. It had a restaurant, a home-made swimming pool that was empty and a dozen or so rooms for rent. Its only other customers appeared to be two Dutch couples who were sunning themselves. We ate deep fried redfish and shrimp dinners under thatched roof pavilions by the Caribbean Sea.. Several of Cruza's extended family accompanied us on the trip to Santo Domingo and they provided rice and guandules for our little feast. The Presidente flowed freely to the accompaniment of loud salsa blaring thru outdoor speakers. The two hour break at the beach seemed an appropriate reward for our week of work.
When we arrived back at Casa San Pablo, we were instructed to go immediately to the chapel for a meeting with Sister Bernie. Were we in trouble? Had word of the Presidente consumption reached a furious Sister? No, but before we could shower or clean up we were debriefed and instructed to write short essays on the topic of peace and relate it to our mission experience. Several in our group were not thrilled about this assignment but dutifully complied. I sat and reflected, fighting the feeling of being magically transported back to the fifth grade and into the presence of Sister Jane Frances stalking the aisles with a ruler waiting to crack those not paying attention. Eventually words came to me and I wrote:
"Too many moments pass through my thoughts to describe just one. Intellectually I've known for years that God brings people together to work out His will and that if we commit ourselves to His peace that He will send us on strange and dangerous journeys. However, this Guayabal mission may be truly the first time I have experienced this truth at a deeply personal and emotional level. Many times in the past five days I've felt close to tears but I held back--and then I wept when alone in my room. It seems like a truly life changing event. I hope so. The tears were about many things--joy and sadness, guilt and peace."
Had I known that we would have to read our thoughts aloud for our peers I might not have been so revealing. Nevertheless, I did read what I had written. Sister Bernie then told us that our writings would be compiled in a book at the end of the year. And true to her word, at a joyous party on January 8, 2005, all of the dozens and dozens of missioners from all over the diocese received books with our writings and photos from the previous year.

We are so clever, those of us from the educated, industrialized First World. We live in a society quickly morphing into the information age-- the age of connective-ness--the era of the internet. We worship in high tech cathedrals and we fly about the globe in titanium sausages and godlike descend to spread our knowledge and spiritual zeal amongst the unwashed. In a few hours we can raise millions for the victims of a tsunami. We congratulate ourselves for doing the Lord's work in the Third World. Surely, He will be pleased with us. And yet it is clear that the mainstream Church is dying in our world and that real Christianity is most vibrant in Africa, Asia and Latin America. It is also sobering when we finally realize that the Lord's work was more about our education, and that we have again been graced by Him, and that our "good works" were mostly for our own benefit. And like Art said, the people of Guayabal gave far more to us than we could ever give to them.